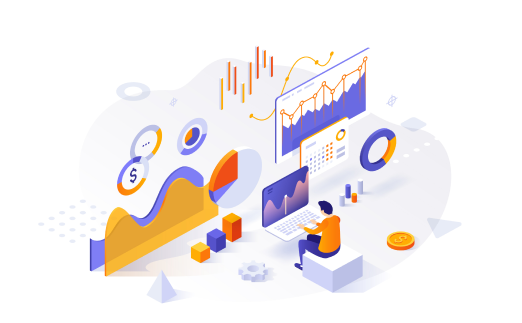 24.11.2022 / thinkcx.com
UK Fibre

Wars – fresh data shows how fast independent altnets are eating into incumbent ISPs' market share 
LATEST THINKCX MARKET INTELLIGENCE
INSIGHTS CHART THE TRUE RISE OF UK FIBRE

ALTNETS USING ACTUAL HOMES CONNECTED DATA 
 New ThinkCX broadband subscriber connections data shows an unbroken 18-month run of success for UK fibre-based alternative network providers ("altnets") making small but steady gains against the dominant incumbent ISPs (BT, Sky, Virgin, TalkTalk, Vodafone) in the UK fibre wars. This is despite massive investments by Openreach – used by the incumbents – in transitioning from copper to new fibre networks. 
As part of ThinkCX's ongoing measurement and reporting of market share dynamics for the UK broadband market, we grouped the 5 major incumbent ISPs together and compared their long-term market share performance metrics against an 18-strong group of the most prominent UK altnets (including Gigaclear, Hyperoptic, Community Fibre, Eclipse, CityFibre and 13 others).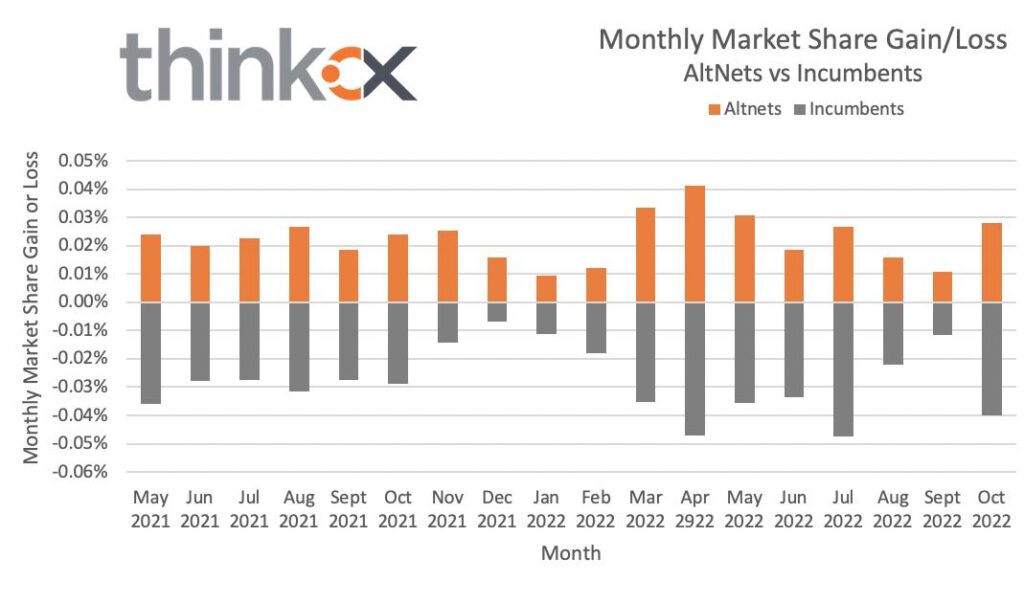 When we look at monthly data, the pattern of small market share increases for the altnets and losses for the incumbent group is obvious and consistent. 
Source: ThinkCX Technologies, Inc. 2022 
At the start of the preceding 18-month period the incumbents collectively held a whopping 96.03% of the UK residential subscriber market, while the selected altnets claimed only 1.99%. However, by the beginning of October 2022, the numbers were 95.59% for the incumbents while the altnets share had gone up to 2.35%. Although the altnets' overall share increase is quite small, even this tiny growth represents a net gain of approximately 100,000 subscribers. 
Who is getting the best return on investment? 
In light of this data, it may be fair to ask if the larger and more established incumbents are at risk of complacency in terms of fibre infrastructure. The UK's smaller, independent fibre-only altnets are certainly viewing the transition to faster, newer networks as a resetting of the market back to level, and an opportunity to get into the game on even footing with the incumbents. 
Plenty of money is being made available to the fibre networks builders to fund the transition. The most notable government contribution is Project Gigabit, a £5 billion initiative launched in 2020 to increase access to fast internet service across the UK, including difficult to reach rural areas. However, most of the funding for fibre infrastructure projects is coming from private equity investors who are backing dozens of individual altnets in a quest to grab their share of this rapidly growing market. 
Given the modest success of the altnet group in the example above, it seems as if there definitely is opportunity for them to capture market share from the incumbents through fibre network expansion. But given that the entire list of altnets is greater than our selected group of 18 (and contains many of smaller scale), there is also bound to be some thinning of the herd. It's safe to say there will be winners and losers, and that consolidation will occur. So, when considering which players to back, investors should look beyond mere homes passed metrics and focus more on actual market share data. 
'Homes passed' data is inadequate – 'homes connected' data is essential 
BT's CEO Philip Jansen has recently made pointed remarks about the inability and inefficiency of altnets to compete in this market. But when he says "there is lots of building going on but not much connecting" he reveals an important issue at the heart of strategic market analysis: getting hold of reliable connections data is significantly more valuable that going by 'homes passed' numbers touted by individual network providers. 
Many of the internet providers building these fibre networks, including BT, are crowing about their success, but they often use the homes passed metric as benchmark of their progress. Homes passed refers to the number of dwelling units an ISP is capable of connecting through its infrastructure build out. But in reality, this is an inadequate measure of real business growth. Certain neighbourhoods may be serviced by two or more competing network operators, and homes passed does not account for the critical final step in the process; the choice the consumer makes about who to pay. 
For a more accurate understanding of customer take up rates in competitive markets, ThinkCX captures and studies market share gains and losses over time. These insights, delivered on a monthly cadence, expose the trends and patterns of subscriber growth and losses. 
About
ThinkCX
ThinkCX is a data science company focused on serving the communication service provider industry with actionable customer insights from the analysis of large quantities of digital consumer signals. We specialise in the accurate detection and granular measurement of service provider growth across mobility and broadband markets. 
Our breakthrough approach enables us to detect market share without asking our clients to share sensitive data, directly contacting subscribers or using personal or private information, or leveraging unreliable small survey panels. Instead, we have developed a privacy compliant, technology-oriented approach that daily analyses billions of anonymous, digital signals that are licensed from thousands of mobile apps. The tactical application of our machine-learning technology assists our clients to not only acquire new subscribers, but also optimize the lifetime revenue of each existing subscriber. ThinkCX currently provides advanced data analytics for most of the top-tier telecom service providers in our domestic Canadian market and is expanding into new country markets such as the UK, Germany and Italy.