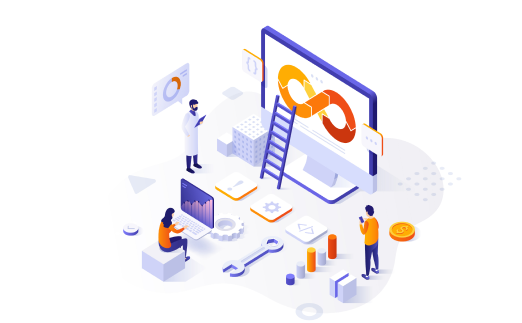 24.01.2023 / thinkcx.com
ThinkCX reveals how fibre operator mergers and buy-outs will change the UK broadband market in 2023
ThinkCX's regional insights
model the impact of altnet consolidation

on UK broadband market share
January 20, 2023 – The latest data from ThinkCX market intelligence reveals how consolidation in the overcrowded fibre altnets market could play out in 2023, as investors and business leaders clamour for market share in specific areas of the UK.
Investment has been pouring into UK fibre rollouts over the last 5 years, leading to rapid growth in small, localised alternative providers. But recessionary shocks in the wider economy are leading analysts and market watchers to forecast a cooling off in 2023 – leading to a frenzy of mergers and acquisitions (M&A) among the altnet community.
"There's still a lot of investment available to fuel further fibre growth, but it's only around one-third the level of ask in the market at large and this is likely to trigger more consolidation among providers in the year ahead," said Guy Miller, telecoms entrepreneur and CEO at MS3 Networks. "Understanding the market dynamics at a local and regional level will be incredibly important to building M&A investment cases, particularly for operators looking to build a concentrated subscriber base or branch out into underserved areas."
The ThinkCX market intelligence platform equips network professionals with a comprehensive, up-to-date view of broadband market share right down to each UK county and local authority area.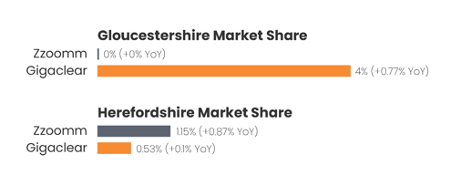 For example, in Herefordshire, the latest ThinkCX data shows the provider with the fastest growing market share is Zzoomm, which has added 0.87% total market share in the last 12 months alone (to 1.15% in total). This is comparable with the market share of Gigaclear (0.53%) and Zen (0.75%).
The picture is somewhat different in neighbouring Gloucestershire where Zzoomm does not figure at all and Gigaclear is the fastest growing provider (adding 0.77% total market share in the last year, to 4%). Among the many altnets operating in this county, Zen has only 0.39% market share and is falling.
"Simply adding together some of these numbers accurately depicts how M&A between some of these providers would result in clear advantages," said Ron Smouter, VP Sales and Marketing at ThinkCX.
"As this example shows, market share for these altnets can be highly localised – providing niche business case opportunities for investors looking to expand penetration without committing to new digs. These market share numbers reflect actual service subscriptions, not simply homes passed, and are based on independent technical evidence rather than how customers, providers or vendors have responded to surveys or provided estimates. The result is a rich view into where the UK broadband market is going next – with millions of possible permutations in the data which covers every recognised broadband provider active in every corner of the UK market."
About
ThinkCX
ThinkCX is a data science company focused on serving the communication service provider industry with actionable customer insights from the analysis of large quantities of digital consumer signals. We specialise in the accurate detection and granular measurement of service provider growth across mobility and broadband markets.
Our breakthrough approach enables us to detect market share without asking our clients to share sensitive data, directly contacting subscribers or using personal or private information, or leveraging unreliable small survey panels. Instead, we have developed a privacy compliant, technology-oriented approach that daily analyses billions of anonymous, digital signals that are licensed from thousands of mobile apps. The tactical application of our machine-learning technology assists our clients to not only acquire new subscribers, but also optimise the lifetime revenue of each existing subscriber. ThinkCX currently provides advanced data analytics for most of the top-tier telecom service providers in our domestic Canadian market and is expanding into new country markets such as the UK, Germany and Italy.